Install nConnect Binary Release
Install nConnect on Windows

Download nConnect from the nkn.org website: nConnect Download

After downloading, install and run it. After starting it should look like this: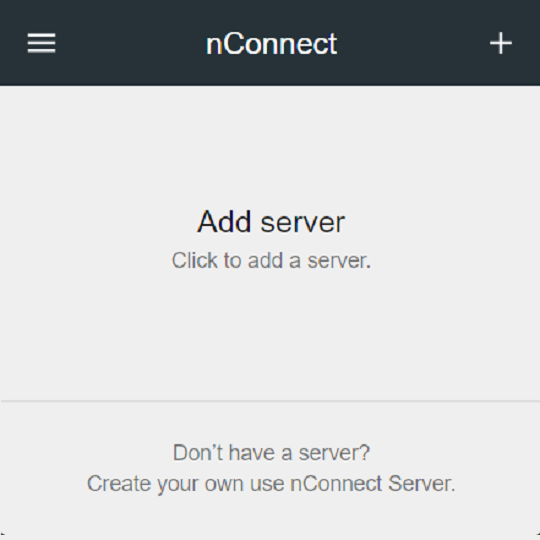 Click on Add Server, it will show a QR code. Now you can use the nConnect mobile app to scan the QR code to synchronize server information, or copy and paste the nConnect Server link address.
Installing nConnect on Linux
Download the nConnect Linux binary release from the nConnect repository. You can always download the latest nConnect from the nConnect github repository: nConnect release

Let's download nConnect for Ubuntu:

 mkdir nconnect


 

cd

 nconnect


 wget https://github.com/nknorg/nconnect/releases/latest/download/linux-amd64.tar.gz




 tar xzvf linux-amd64.tar.gz


 

cd

 linux-amd64


Get nConnect Server address: The nConnect Client connects to the nConnect Server using the server address. So first we get the server address as follows:

$ ./nConnect -s --address
nConnect.gzwiy

5.4

c

01

b

508

fd

9e5432633

c

6

b

098e6

a

0

f

166

fdfd

6

a

57

a

2

c

2313

d

08711

ef

1

c

4

a

4725




Copy the string leady by nConnect. on your terminal, this is server's address. We need this address for client to connect server.

Start nConnect Server: First, open port 8001 from the firewall, then start the nConnect Server:

$ 

./nConnect

 -s 

--admin-http

 

:8001




Great, nConnect Server has started. Now you can open the nConnect Server web page:

http:

//local-ip:8001




Please replace local-ip with the local IP address of your own computer. You can see the home page like this:

On this web page we can see a QR code.
Install nConnect on your Mac

Open the Apple Store, search for nConnect, you will see the result as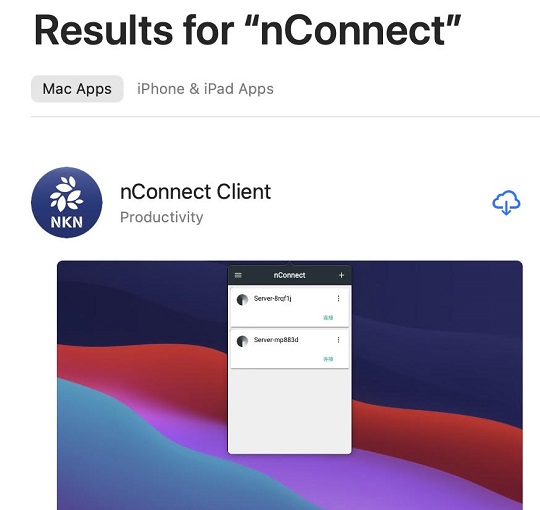 Install it and open it, it is shown icon in the upper right corner, click it and you could see nConnect window: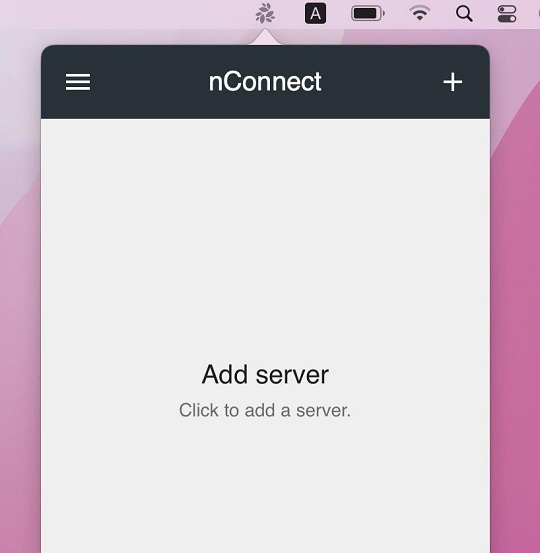 Install nConnect on your Android phone

Download the nConnect app from Google Play.
Install the nConnect app from Google Play Make sure you download the right nConnect which is published by NKN Labs, Inc. You can see the NKN logo as shown below:

Install nConnect App from nkn.org Download the APK from nConnect and install it.
Install nConnect on your Apple Phone

Download the nConnect App from the Apple Store.
Install nConnect App Make sure you download the correct nConnect published by NKN Labs, Inc. You can see the NKN logo as shown below: